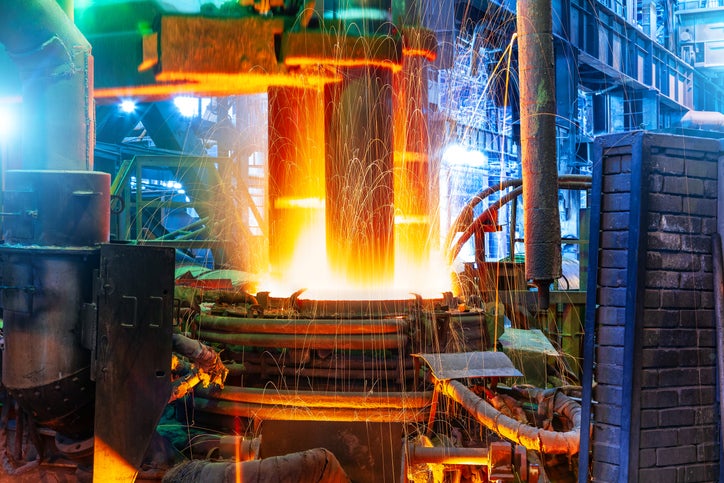 Japanese steel giant Nippon Steel has been congratulated by a group of investors for commencing studies into the transition from blast furnaces to electric arc furnaces.
The investor group, which includes Man Group, Storebrand Asset Management, Corporate Action Japan and the Australasian Centre for Corporate Responsibility, has encouraged Nippon Steel to agree to convert its blast furnaces to electric arc furnaces at the end of their life.
The company also assured investors that it only intends to "temporarily prolong the life of the blast furnaces that use conventional technology where economic, maintenance or safety matters stand in the way of immediate conversion".
The company's Kyushu Works steel plant in the Yawata area and the Setouchi Works steel plant in the Hirohata area have been identified as potential candidates for the installation of an arc furnace.
Nippon Steel has a target to reduce carbon dioxide emissions by at least 30% from 2013 levels by 2030 and for its steel production to be entirely carbon neutral by the year 2050.
According to Carbon Brief, traditional steelmaking through coal blasting produces more emissions than any other industry, accounting for 11% of global carbon dioxide emissions.
In an electric arc furnace, hydrogen reacts with iron ore when exposed to heat from the high-current electric arcs. This process produces steel without the requirement to burn any fuel. The furnace does not need to be heated to the same temperatures required for traditional blast furnaces. The process is capable of cutting emissions by up to 95% compared with traditional steelmaking.
One of the major challenges of green steel production is ensuring a supply of green hydrogen. Nippon Steel has assured the investor group that a stable supply of green hydrogen and green power is necessary to achieve its target of carbon neutrality.
Driving sustainability efforts
Jason Mitchell, head of responsible investment research at Man Group, said in a statement that "one of the powerful lessons that we take away [from this announcement] is that a constructive, multi-stakeholder engagement can drive climate action".
Nippon Steel is yet to go into detail as to how green hydrogen and renewable power will be sourced for its operations. Speaking with Power Technology in March, Suzanne Schenk, a steel campaigner at non-profit Europe Beyond Coal, said that while many steel companies have announced carbon neutrality targets, few have concrete measures in place that demonstrate how they will be adopted.
"While green hydrogen-based steelmaking will be part of the solution, it is highly expensive and the required green hydrogen is unlikely to be produced in large enough quantities in time,"she said. "The period to 2030 is a critical window for decarbonising Europe's steel sector as three quarters of the continent's coal-based blast furnaces require updates and reinvesting in coal-based technology will create a lock-in that endangers Europe's climate targets."