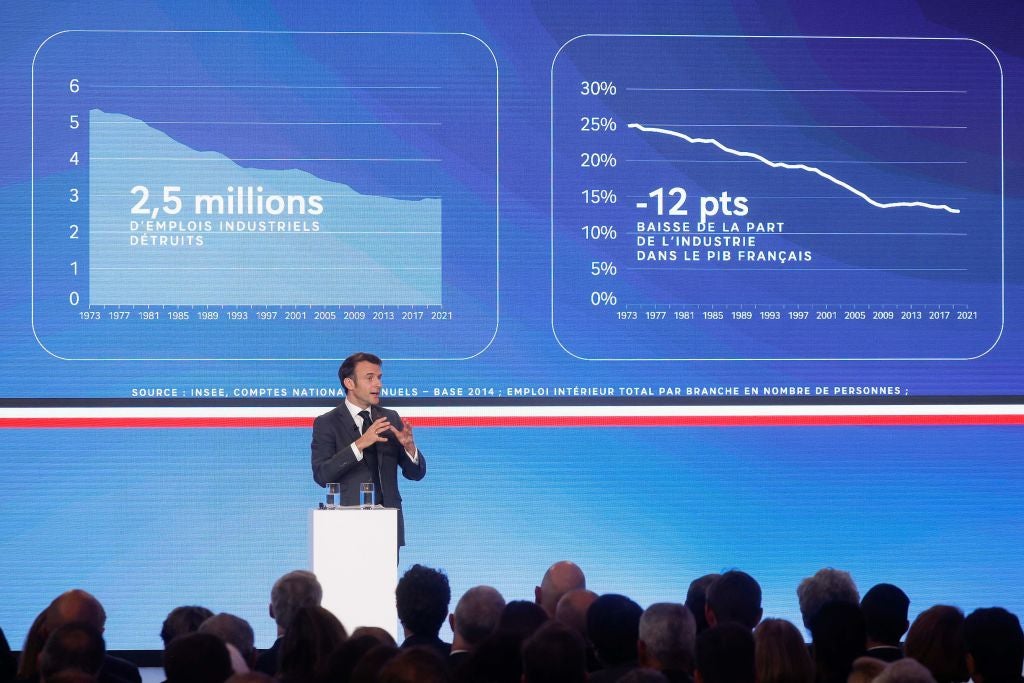 French President Emmanuel Macron announced on Thursday that his government will offer a tax credit for renewable and low carbon investments, Reuters reports.
The credit will generate private investments totalling $22bn (€20bn) by 2030 and create tens of thousands of jobs, the government said. It plans to include the credit in next year's budget.
The measure will cover companies' capital spending on 25%-40% of their investments in wind and solar projects, including power facilities, heat pumps, and storage batteries, officials said via Reuters.
Macron's government seeks to boost investment in renewable technologies in an attempt to compete with subsidies and tax breaks offered by the US to companies under the Biden administration's newly-implemented Inflation Reduction Act (IRA). The IRA has already seen several major vehicle manufacturers, including Volkswagen, expand electric vehicle production away from Europe to North America.
"This financing framework should help us compete with the Americans' IRA," Macron told Reuters.
Macron added that a green industry bill will be presented next Tuesday. This will include plans to increase investment in industrial training, in the hope of halving the time it takes to set up new factories in France to nine months or less.
In a column published in the Financial Times on Friday, Macron wrote that at the Versailles summit last spring, Europeans "agreed on the importance of remaining in control of our own destiny and […] paved the way for a more sovereign Europe, with tangible decisions taken on defence, energy and economic security."
He also proposed a "five pillars" framework to boost Europe's independence. This included a commitment to competitiveness, specifically in the deepening of the EU single market. It also included a boost to policy and research relating to renewable technologies, the protection of European companies, an enhanced, more ambitious trade agenda and solidarity with the rest of the world.
For consumers, a cash incentive of up to $5438 (€5000) is already available to buyers of new electric cars. Under proposals, this would become conditional based on the manufacturers of these vehicles meeting increasingly strict low-carbon EU standards, serving to effectively shut out non-European carmakers.
"We're going to support batteries and vehicles made in Europe because their carbon footprint is good; we're not going to use French taxpayers' money to boost non-European industry," Macron said.