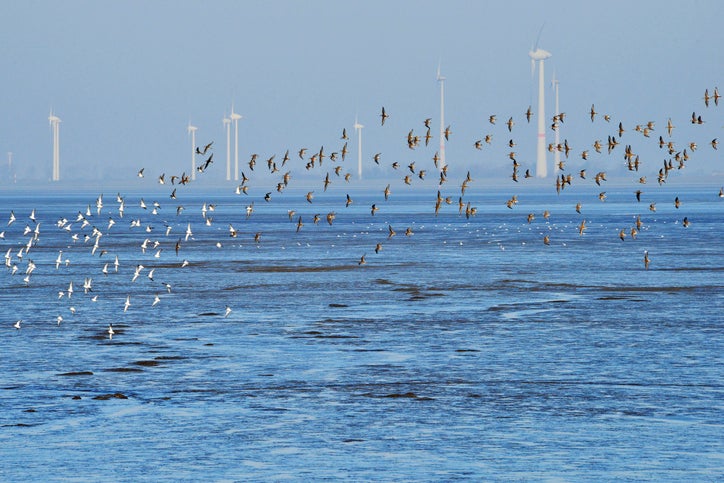 Turbines at wind farms in Borssele and Egmond aan Zee were halted for four hours on Saturday after a massive bird migration over the North Sea was predicted. The shutdown, an international first, was a test run for a new government policy to allow migratory birds safe passage across North Sea offshore wind parks.
"Twice a year, in spring and autumn, millions of birds migrate over the North Sea on some nights," said Tim van Oijen from NGO Netherlands Bird Protection, in a press release. "With the growth in the number of wind farms in the North Sea, it is extremely important that we do this in the most ecologically responsible way possible, with minimal impact on the North Sea. The temporary shutdown of the turbines during bird migration contributes to this."
With the rapid development of offshore wind, ecologists fear the impact it could have on birds. Netherlands Bird Protection has warned that the ecological consequences of large-scale offshore wind projects should be researched before their development starts. One coast in the Netherlands is running a test with turbines with one black-coloured blade so birds can better see them – a study that also ran in Norway. However, such solutions won't work at night.
In the UK, plans to expand the world's largest offshore wind farm at the time, the London Array, were scrapped nine years ago due to the requirement for a study of its impact on birds. That study would have taken three years with no guarantee of a positive outcome for the project, the consortium of energy companies behind it said at the time.
In the Netherlands, to help birds pass safely, Dutch wind project owners will in future have to curtail operations during predicted nocturnal peak migration by bringing back the speed of the turbines to a maximum of two rotations a minute.
The measure will officially be implemented in autumn 2023. It is unclear exactly which wind parks will take part, but the government announced that it will apply to those currently still under construction or in the pipeline.
Wind parks will know the chances of a big bird migration two days in advance, based on modelling by the University of Amsterdam and predictions by a group of bird migration experts. This will not only allow turbine operators to prepare for the shutdown but also give grid operator TenneT enough time to guarantee the stability of the grid.
"We want to keep the impact of wind farms on nature as small as possible and we do that, among other things, with this measure," said Rob Jetten, Dutch Minister for Climate and Energy Policy, in a press release on Monday. "All parties involved worked well together and set this up in a relatively short time, so it's a great initiative that I am very proud of."