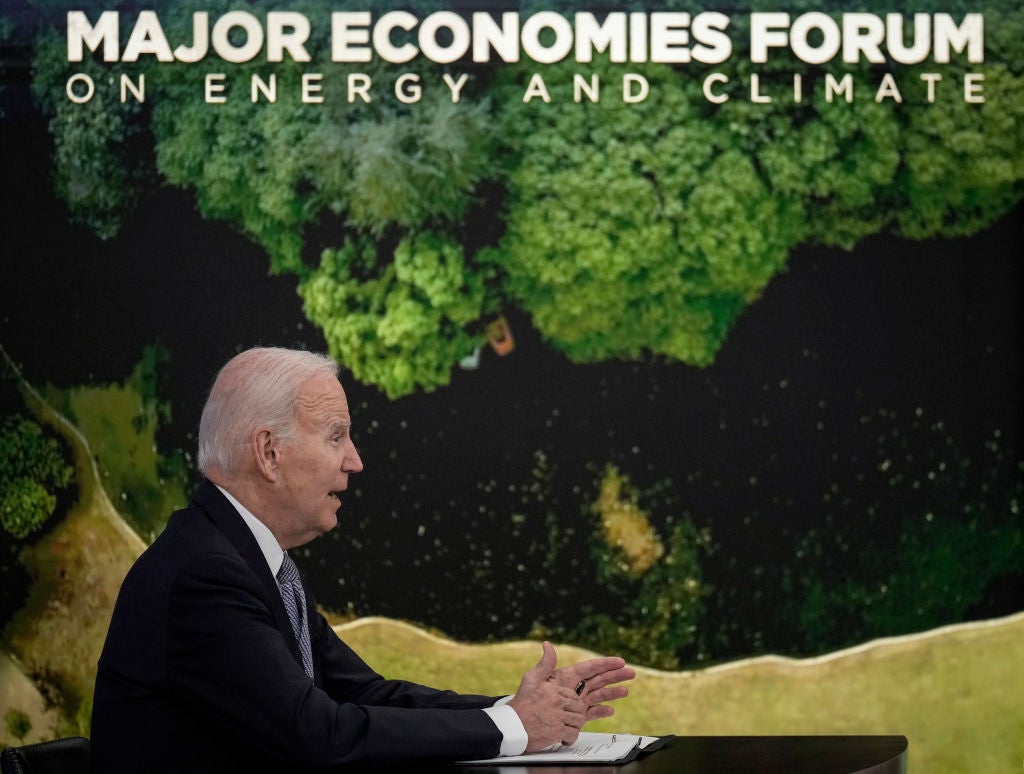 US President Joe Biden on Thursday announced a $1bn US contribution to the Green Climate Fund to help finance climate projects in poorer nations, Reuters reports.
The announcement came at the Major Economies Forum on Energy and Climate, a virtual meeting held from the White House with leaders from the world's largest economies. It is the group's fourth meeting under the Biden administration, hosting leaders of countries accounting for 80% of carbon emissions.
The Green Climate Fund is an international organisation that finances projects on clean energy and climate resilience in poorer nations. Biden also plans to request $500m over five years to contribute to the Amazon Fund, an organisation working to combat deforestation in the Brazilian Amazon rainforest.
"Together, we have to make it clear that forests are more valuable conserved than cleared," Biden said. A senior administration official said that Biden's team would have to work with the US Congress to secure this funding.
Brazil's government has welcomed the pledge to help protect the Amazon. "It is obviously a great achievement, both for what it means to have the United States contributing to a fund like the Amazon Fund and for the volume of resources to be contributed," said Brazil's environment minister Marina Silva at a news conference via Reuters.
During the meeting, the President also urged other world leaders to be ambitious in setting goals to reduce emissions and keep global warming below 1.5°C, a target set out in the Paris Agreement in 2015.
Climate change "felt most by those who have contributed the least"
UN secretary-general Antonio Guterres, also in attendance, called on rich countries to reach net zero emissions by 2040, bringing the target forward by a decade from the one set out in the Paris Agreement. Poorer nations should maintain the net-zero by 2050 target, he said.
He also called for OECD countries to phase out coal entirely by 2030, with non-OECD countries hitting this target by 2040. A report from non-profit organisation Global Energy Monitor found earlier this month that to maintain these targets, global phase-out of coal must increase by four and a half time sits current pace.
The International Renewable Energy Agency said last month that wealthier nations will need to take on more of the burden regarding the energy transition if global climate targets are to be met.
"The impacts of climate change will be felt the most by those who have contributed the least to the problem, including developing nations," Biden said at the forum. "As large economies and large emitters, we must step up and support these economies." Biden has previously stated a goal of increasing international climate finance to $11bn annually by 2024.
US domestic climate plans
Biden, who made tackling climate change a key mandate in his election campaign, set a goal for the US to cut its emissions by 50%-52% by 2030 from 2005 levels at the Earth Day summit in 2021.
This month, the US Environmental Protection Agency proposed wide-reaching regulations that would require 67% of all vehicles sold in the US to be electric by 2030, in an attempt to bolster electric vehicle uptake.
Meanwhile, the Biden administration faces backlash for its controversial approval of the $7bn ConocoPhillips oil and gas project in Alaska.
Mike Scott, senior campaign representative at environmental charity Sierra Club, said at the time: "Approving [the Willow project] after passing the largest climate bill in history would be a giant step in reverse" for the US government.
Earlier this month, a US federal judge rejected pleas from environmental activists to temporarily revoke the government's approval for the project. Bridget Psarianos, an attorney contesting the approval, said the judge's ruling was "heartbreaking".